Customer Reviews
20 Dec 2021
Yu X.

Singapore
Really pretty candle warmer
Been searching for a candle warmer for some time and was sold on this warmer's unique design! Came with 2 bulbs and it feels really sturdy and worth the price. Plus it was well packaged for delivery! Candles were warmed up pretty quickly in 1+ min. Great buy for anyone who's looking for an aesthetic warmer haha.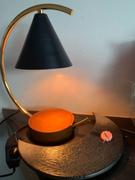 14 Dec 2021
Nicole C.

Singapore
I recommend this product
The prettiest candle warmer ever
I've been hunting for the perfect candle warmer lamp and I couldn't believe my luck when I found it here! I was so excited to receive it!! Highly recommended!! Comes with a 35W and 50W bulb! Immediately used it on our Christmas candle at the front of the house. Within 5 minutes of using the 35W bulb, you could smell it from the kitchen! P.s. totally my aesthetic!